Chilean Wine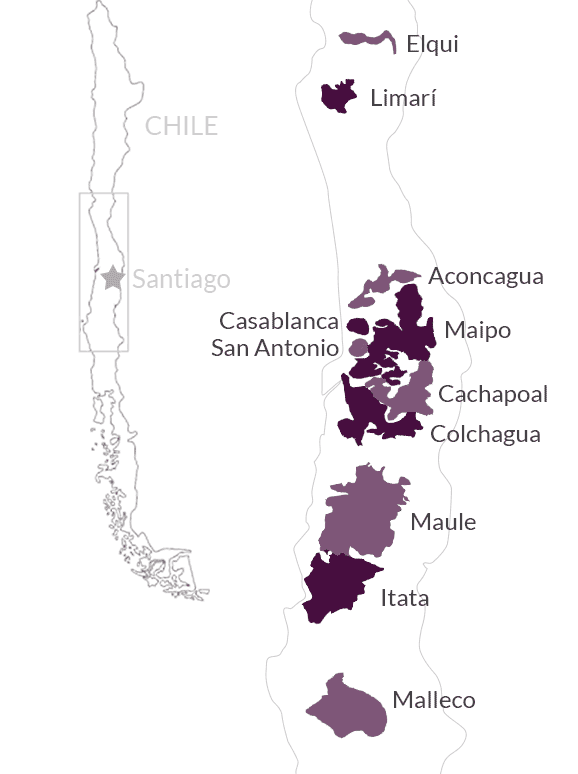 Vine Connection's 'New Chile' portfolio was crafted with one goal: to represent the premium quality, diversity, and revolution of Chilean wine today.  In 2013 'The New Chile' was launched as the first-ever fully appellation-based Chilean portfolio in the United States, and continues to be the pioneering leader in its category.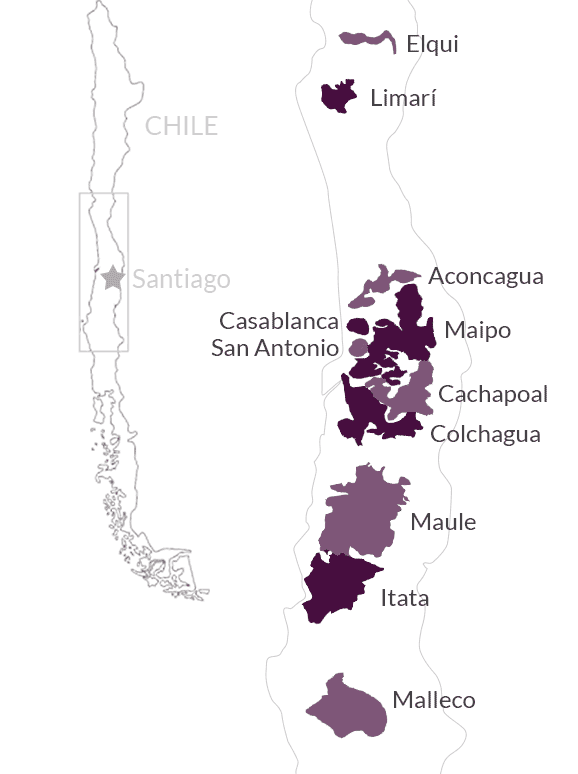 6th
largest wine producer in the world
340K
Acres of vines planted across the country
2,700
Length in miles of the country of Chile
75/25
Percent of reds to whites produced in Chile
About Chilean Wine
Elevation
Chile has two major mountain ranges that greatly affect its viticulture: the coastal range and the Andes mountain range.
Chile's vineyard elevation ranges from 400ft to 7,200ft – where some of the highest vineyards are found in the Andes Mountains of the Atacama Desert.
Climate
Chile has been named a 'viticultural paradise' for its textbook mediterranean Climate. Long, dry summers are perfect for the growing season, paired with its cold, rainy winters.
The Humboldt Current coming up the Pacific Coast of Chile brings frigid waters from Patagonia and a cool morning fog every morning that vines love (called the 'Camanchaca' fog).
Large diurnal temperature shifts from day-to-night greatly influence the complexity and balance of Chile's higher-elevation viticultural regions.
Soil
Chile's geological diversity creates a mosaic of soil types across its viticultural regions: including limestone, basalt, decomposed granite, schist, volcanic tuff, clay, sand and loam.
Older than the Andes mountains, Chile's coastal mountain range is a base of low-fertility, decomposed granite that is ideal for deep root systems and irrigation drainage.
Varietals Planted
*

Denotes varieties imported by Vine Connections
Cabernet Sauvignon

*

Merlot

Carmenere

*

Syrah

*

Pais

*

Pinot Noir

*

Malbec

Other
Sauvignon Blanc

*

Chardonnay

*

Moscatel
The Wine Regions