Argentine Wine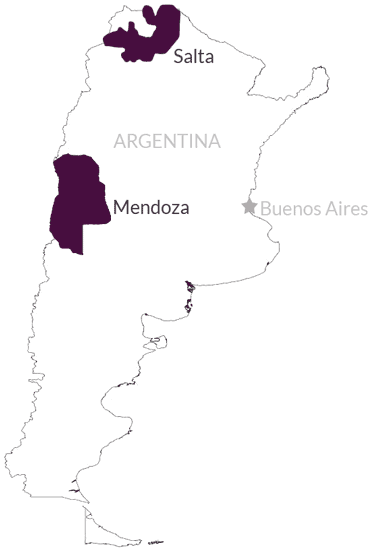 In 1999, Vine Connections pioneered the first nationally imported portfolio of artisan wines from Argentina. Malbec quickly became the hero varietal, but the country's high-elevation desert vineyards produce diverse varietals and flavor profiles.
Currently undergoing a real-time evolution, Argentine wineries are increasingly focusing on the terroir and microclimates of unique regions for a distinctive expression of place and quality.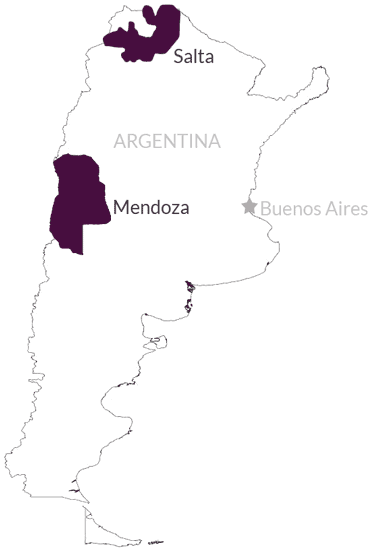 5th
Largest wine producer in the world
75K
Acres of vines planted across the country
300
Average days the sun shines
9.1M
Cases of Malbec shipped worldwide in 2013
About Argentine Wine
Elevation
Vineyard elevations range from 2,300 to as high as 9,000 feet.
Intense sunshine (solar radiation) with relatively cool air temperatures produces healthy vines, which allows for selective pruning and good yield management.
High polyphenol levels result in soft tannin structure and greater flavor intensity.
Climate
High desert with warm summer days and cool nights leads to even ripening and soft tannins without losing the acidity necessary to achieve balanced wines.
8 inches of rain per year means growers can control vine stress and yields.
300 days of sun + cool air temperatures means grapes achieve excellent physiological ripeness at the same time that sugars are still in balance.
Soils
Virtually pest-free vineyards due to low humidity and high altitudes.
Growing areas vary from sandy to clay, but are predominantly loamy with excellent drainage.
Most soils are low in organic materials due to elevation and climate, creating additional desirable vine stress.
Varietals Planted
*

Denotes varieties imported by Vine Connections
Malbec

*

Bonarda

*

Syrah

*

Cabernet Sauvignon

*

Tempranillo

Merlot

Pinot Noir

*

Other
Torrontes

*

Chardonnay

*

Sauvignon Blanc

Riesling
The Wine Regions